PMOLED
Passive Matrix Organic Light Emitting Diode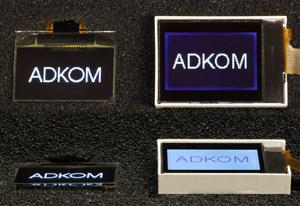 Passive Matrix OLED (PMOLED) is becoming increasingly interesting for industrial applications by technological advantages over conventional LCD displays. They are distinguished towards conventional LC displays, among other things, with the following advantages:
self illuminating
brilliant readability without use of backlights
high contrast ratio
large viewing angle from all sides
fast response time
extremely flat design
While LCDs with backlight can be offered only from about 4.0mm due to its design, PMOLED's are already available at thicknesses between 1,3-2,0mm. For applications that need to count every tenth of height, an appreciated benefit.

In monochrome and full color, standard sizes are available from 0.48" up to 5.5" on favorable terms. Also alphanumeric modules are available as standard version in resolution 2x16.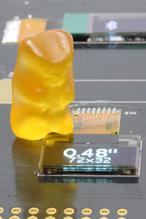 On the issue of life time, PMOLEDs are now interesting for many applications. Measured at 80cd/m² and, depending on the color used, lifetimes between 15,000 to 150,000 hours are within reach. The brilliance of PMOLEDs is unique and better than those of conventional monochrome displays. A display, easily readable from all angles, makes you independent of pre-defined viewing.
For some time, a technically phenomenon known as "image retention " or "image sticking", has been realized in PMOLEDs. Often the incidence of this image, respectively display behavior, can be reduced in continuous operation. Information about a scientific survey and which recommendations can from our point of view be made, we have summarized for you under the heading "Worth knowing about Displays".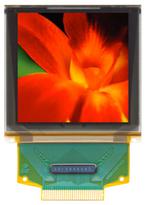 The given downloads list of standard PMOLEDs does not claim to be exhaustive and is subject to technical changes. If you could not find a suitable PMOLED in our standard program, we will be happy to develop a customized solution together with you.
OLED Monochrome and colored character
Please contact our sales team.