Flexible E-Paper
The flexible Segment E-Paper is another milestone in display technology. Carrier material for flexible displays is a flexible printed circuit (FPC ).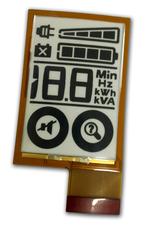 Advantages of these types are:
flexible
ultra-thin
customized
presentation of segments and symbols
display remains preserved, without applied voltage
extremly high contrast
extremly large viewing angle
almost white background
reflective technology, therefore easy to read in light
Please contact us for a solution, please contact us!