Displays with colored areas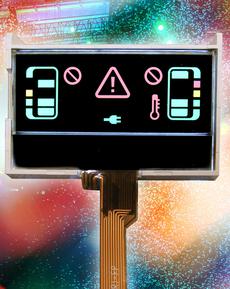 In many fields of application, displays with colored areas can be used. E.g. audio, automotive, measuring technique, medicine technology or household appliance. Particularly suitable to enhance special functions clearly or to show minimum and maximum areas in scales colored.
Basically one can distinguish two kinds of colored displays:
Displays with firm assigned colored areas
FSC-Displays with varying colors
Displays with firm assigned colored areas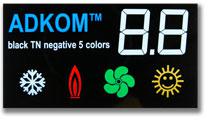 According to your individual demand we develop displays with which you can accentuate single areas e.g. min and max areas in scales chromatic. For displays in the positive mode, the color ranges are also visible in non-addressed state.
For displays in negative mode with a black background and white backlight color areas are displayed in e.g. yellow, red, blue or green. In off-state the display is black.
So your display become a real eye-catcher!
FSC-Displays with varying colors

In the FSC technology (Field Sequential Color), the segments may be alternately displayed in up to eight different colors: Black, white, yellow, red, pink, cyan, blue and green
The 8-colored LCD is a real alternative to CSTN and TFT technology and offers the following advantages:
more favorable tool and unit cost
long life span of more than 50.000 hours
big viewing angle
good contrast