Alphanumeric LCD-Modules
Alphanumeric modules are available in various standard versions.
Temperature ranges from 0°C/+50°C and -20°C/+70°C in extended range, as well as viewing angles 6:00 or 12:00 o'clock are available. Alphanumeric modules can be provided with lateral illuminating backlight. Thereto for some modules, different colors (white, blue, yellow/green, green, RGB, etc.) are selectable.
Please also be aware about special modules with serial and UART interface.

If you could not find a suitable Module in our standard program, we will be happy to develop a customized solution with you.
Alphanumeric OLED-Modules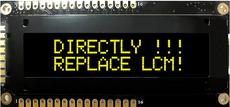 The over many years proven alphanumeric LCD modules are now currently equipped instead of LC-Displays, in some versions with OLED-Displays. PIN compatible to the well-known STN LCMs, these OLEDs are available in the colors W / Y. Interesting for applications which, for example, cannot exist without Cyrillic or Japanese font, but still should obtain a modern look. By reason of the OLED technology, no backlights are selectable for these OLED modules.

An overview of the currently available standard sizes can be found here.
Be advised by our sales team.