Hardware Development
M-Tronic Design and Technology GmbH takes over the planning of electronic equipment with optimal usability and persuade with the construction of patterns. After functional and quality control a certificate for EMC testing (Electromagnetic Compatibility) for each product can be performed. In the selection of relevant components, you benefit from many years of experience and close cooperation with our suppliers. So we pay attention, for example, on the long-term availability of components.
The range of services includes: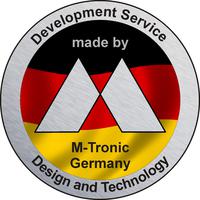 Feasibility study, assistance in the preparation of specifications
Schematic design and layout using Altium Designer
Microcontroller based digital circuits
Circuits with power supply or DC / DC converter
Printed circuit board layout (multilayer)
PCB 3D data
PCB format according to project requirements
Track width and distance 0.1 mm possible
Components up to type 0201
flexible circuit boards
BGA routing, for example, with 0.8 mm pitch
Impedance and length-adjusted routing (e.g. RAM routing differential pair routing)
Standardized 230V layout of power supplies and 230V circuits
virtual 3D-collision check for the fit between housing and PCB       
3D-housingdesign
Support plates
Shielding
Modifications of standard housings
Combination of 3D-housing and 3D-PCB
Housing-Production under compliance with existing standards e.g. protection class IP65
Services Hardware Development
In troubleshooting or optimization of existing projects M-Tronic can help with:
Fault diagnosis in PCB layout
Circuit fault
Signal interference
EMC problems
Error Analysis Source (PC, Embedded and Microcontroller)
You want to turn your idea into reality?