Pins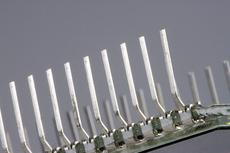 Contacting a LCD by using Pins, is currently the most common and popular form.  It provides a very reliable version of the connection with your PCB.
The on the display glass clamped pins are soldered here with the circuit board, or connected via a socket strip. Depending on the installation situation of the Display, Pins are available in different lengths and pitch dimensions. Cranked or with reinforcing fin for mechanical pull relief for long versions.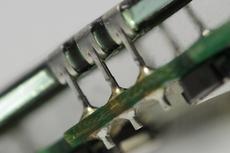 The suitable model will be selected individually for your assembly situation.
In order to ensure proper contact and not to damage the LCD, certain points should be noted for the soldering process. General Information to the solder process, we have provided for you as download under the category "Worth knowing about Displays".
Further contacting possibilities are Elastomeric Connectors, FPC or Heat seal.
For a perfect solution, please contact us.