Case study ASTN LCD at sub-zero temperatures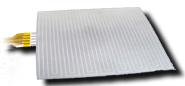 Case study ASTN LCD at sub-zero temperatures
Not a small number of customers' projects require due to operational conditions and locations very deep temperatures. Some technologies of LCDs allow functionality at -30°C or -40°C (TN displays e. g. can cover up to -55°C) if the liquid is designed afore. However, basic physical laws cannot be denied as they are effective for all displays in the market.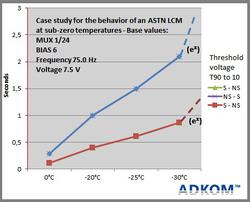 In order to get a statement of the display speed, the time between the non-visible (NS) and the visible (S) virtual level will be taken. In the process the time of the threshold voltage between T10 (10 % of the threshold voltage) and T90 (90 % of the threshold voltage) is measured. The graphic above shows the switching time of a segment proportional to ambient temperature. You can clearly see that dropping temperature causes plummeting speed. The chart below delivers the corresponding values. We measured the time (in ms) between appearance of segment (NS-S) and disappearance of segment (S-NS).
Due to the pure physical characteristics of the liquid crystal this ASTN exemplification requires exponentially more time to display information the lower the temperature.

Under which operational conditions a product can be used is mostly defined by the application or selling region. Corresponding to these application circumstances the required temperature range of a display can be defined. Important here is, which time can be accepted for change of data. That is for example an admittedly grave factor in regard to quickly changing values.
However, you can take steps during development to improve behaviour of inertia at extreme temperatures - for instance heating foils installed under the display.
The thickness of those foils is generally in a range of decimillimeters and in their shape customized producible. These foils are similar to FPCs in haptics and composition. We will pick up this topic gladly and make it subject of a future newsletter.